GRADUATE STUDENTS
Current Students: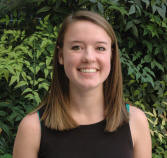 Sydney L. Baker
M.S. Student (2015 – present)
Animal Biology Graduate Group
Office Location: 2424 Meyer Hall
Email: slbaker@ucdavis.edu
Research Interests:
Sydney's research explores the possible causes of keel bone damage sustained by hens housed in enriched colony cage systems.
Awards and Honors:
Sydney is the recipient of the 2016 Pacific Egg and Poultry Association's Student Merit Award and the winner of the 2016 Western Poultry Scholarship and Research Foundation's Student Poster Presentation Award.
Past Students:
Chistopher J. Byrd (M.S. Degree; 2012-2014)*
*Asterisk denotes affiliation with Makagon Lab at Purdue University