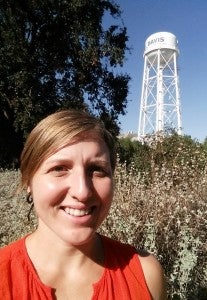 Assistant Professor
Department of Animal Science
University of California, Davis
Office Location: 2245 Meyer Hall
Office Phone: 530.752.9419
Email: mmakagon@ucdavis.edu
Linkedin Profile: https://www.linkedin.com/in/majamakagon
Hear Dr. Makagon talk about the 3 parts of her job: here.
Education:
B.A.:   University of Virginia, 2001 (Biology)

M.A.:   Cornell University, 2005 (Psychology)

Ph.D.:  University of California Davis, 2010 (Animal Behavior)
Research:
My research program focuses on the interplay between the behavior, welfare and management of poultry. I work primarily with commercial strains of  laying hens, broiler chickens and ducks, and occasionally with turkeys and quail. Please visit the "What We Do" page or my Google Scholar profile to learn more about my research program as well as current and recently completed projects. 
Fun fact: Although I currently work exclusively with poultry, I started down the research path focused on captive exotic animals in zoo and aquaria settings! I have also researched the behavior and vocalization of wild coyotes and college students.
Teaching:
Since 2017 I have served as lead instructor for Animal Welfare (ANS 103; winter quarter)  and Ethics of Animal Use (ANS 170; spring quarter). I have been a co-instructor for a graduate-level core course in Animal Behavior (ANB 218b; winter quarter), and periodically offer a graduate-level science communication course (ABG 290). Ever other year I lead a study abroad course in Poland entitled "Equine Welfare and Management" (ANS 198).  The program is possible through a collaboration with faculty at the Rzeszow University. It's most recent offering (summer 2020) was cancelled due to COVID-19.
Previously, as a Purdue University faculty member, I instructed "Applied Animal Behavior," an undergraduate-level course, and several seminar courses on Animal Welfare Assessment and Judging. The latter prepared students for the Intercollegiate Animal Welfare Assessment and Judging Contest.
Fun fact: I enjoy sharing the awesomeness of science with students of all ages. Over the years I have been involved in guest instruction, development of short courses,  and other forms of outreach at elementary schools, high schools and a juvenile detention center.